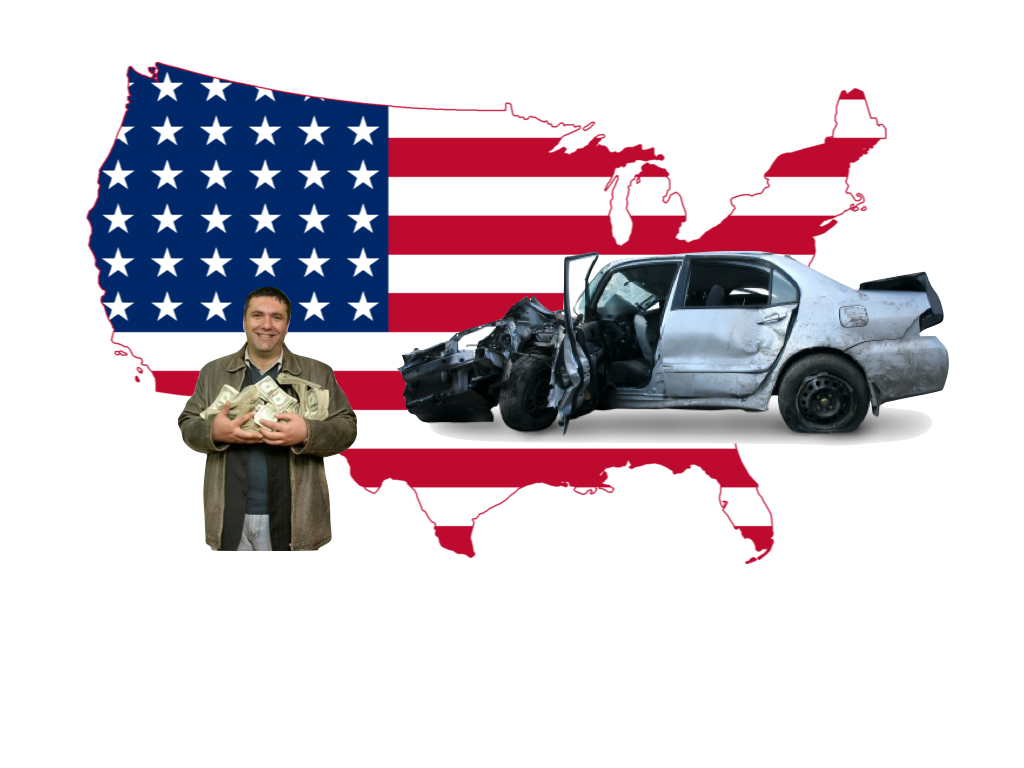 If you really want to see America, and truly experience it then you'll want to do so by car. For about the amount that you'd spend on airfare, you could drive across the land of the free at your own pace.
Obtaining Cheap Transportation
Once you get off of your flight in the Miami United Estates airport, browse through the Craigslist listing for a cheap car. You should be able to pick one up for around $800, the same price that you spent on airfare to get to Miami. You may even find one cheaper, there are plenty available.
With a junk car you can save the money that would've been spent on flying and enjoy a trip around America, allowing you to see more sights and have more fun than you would've otherwise.
Save on Hotel Cost by Camping for Free
There are numerous spots throughout the US where you can camp for free, in fact for your first stop you might want to camp at Big Gully Landing and Hunt Camp in Bristol, Fla. To take advantage of free campsites, simply make a detour into any surplus store and buy some used camping gear. This will allow you to enjoy the great outdoors with friends. Just don't forget the chocolate and marshmallows to make some fireside smores.
Save Your hard Earned Cash and take in Some Free Attractions and Events
You don't need to spend a dime to have fun while driving across American in your new junk car. There are special events and festivals scattered throughout America in practically every city and small town at least on certain dates. You can also enjoy permanent events that are free no matter what time of year you happen to be driving through. If you've just left Bristol, you should head over to the Morgan Creek Vineyards in Harpersville, AL. While there you can enjoy a free personal tour and taste any of there wines.
Enjoy Low Cost and Free Sights
If there's anything that America has for little to no money, it's natural wonders, sculpture gardens and sightseeing opportunities. Just pass the halfway point to California, is Irving Texas where you'll be able to see the impressive and breathtaking Mustangs of Las Calinas. Entry into the actual museum is also free if you want to spend some time looking around.
Eat on the Cheap
No Matter where you happen to be in America there are plenty of cheap places to eat. You'll find several charming diners that are affordable. You can also swing by any state or city park and BBQ up something tantalizing and delicious on a provided grill or the camping stove you grabbed for camping.
What to Do with Your Junk Car
Once you've traveled back to the east coast, you can sale your junk car in Fall River, MA, New Bedford MA, Boston MA, Taunton MA, or Newport RI and Providence RI at Sell Junk Cars. You should get around $300 give or take. From This area you'll be able to travel back home.
The Bottom Line
A trip to tour America doesn't have to cost a fortune. You can easily see the US state by state for around and possibly under $2500 simply by purchasing a junk car that you can later sale. This amount is basically the same price you would've spent on airfare and taxis. If you budget and camp free and try to stick to free attractions, you may very well get to return home with a little cash in your pocket.